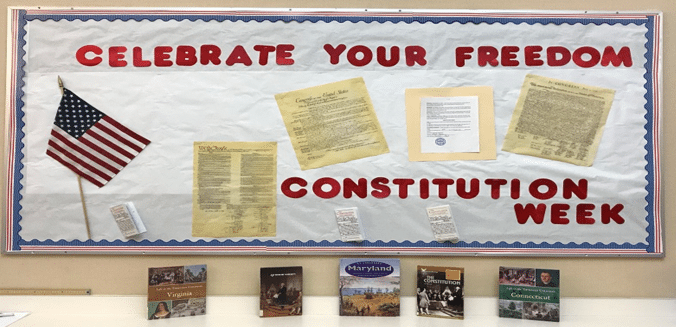 Constitution Week
September 17 – 23rd
Introduction
Constitution Week is the commemoration of America's most important document. It is celebrated annually during the week of September 17-23.
The United States Constitution stands as a testament to the tenacity of Americans throughout history to maintain their liberties, freedoms and inalienable rights.
This celebration of the Constitution was started by the Daughters of the American Revolution. In 1955, DAR petitioned Congress to set aside September 17-23 annually to be dedicated for the observance of Constitution Week. The resolution was later adopted by the U.S. Congress and signed into public law on August 2, 1956, by President Dwight D. Eisenhower.
The Aims of this Celebration:
Emphasize citizen's responsibilities for protecting and defending the Constitution.

Inform people that the Constitution is the basis for America's great heritage and the foundation for our way of life.  

Encourage the study of the historical events which led to the framing of the Constitution in September 1787.
Why Constitution Week?
Getting Teachers and Students Involved:
The ultimate goal was to get Teachers and Students involved in activities that would work for their classes, without taking up too much of their classroom time.  I wanted to get activities for each class that would only take 10 or 15 minutes.  The website I ultimately found was: Historybelle.com  At this site you are able to go to the downloads button and find activities for all your grade levels and a number of Constitution and History related subjects.   Then all you have to do is present the idea to your teachers.
Lastly, in your Libraries, set up a display of materials and books to go along with the theme, and have fun!
Thanks to Jolene Dodge at Escalante High School for sharing her lesson plan!