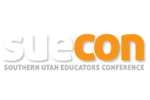 Welcome to SUECON 2013!
Using KOHA in your Library
Chris Haught
Verlene Schafer
KOHA  is an Union Based catalog using open source software. KOHA is web based, and fully customizable to fit your needs. SEDC  is currently hosting and supporting KOHA for 26 schools in the region, with plans to add more in 2014.
Overview of KOHA-Verlene
Benefits of combined resources by adding all materials
Accessible from any computer
No Software needed
Union Catalog Reservoir allows librarians to share MARC records
Interlibrary loans
Adding Textbooks
Adding Electronics for Inventory
Taking a look at KOHA-Chris
Checking in/out
Adding Patrons can be done automatically thru SIS or manually (students can move from school to school)
Reports-Overdue/Lost/Checked out
Fines and Circulation Rules
Item Types
Taking a look at OPAC-Chris
Searchable Database
Teachers can make list to share with student or save for units
Cart and Holds
 Searchable by Lexile and AR coming soon
Marc Records-Chris
What are they?
Where do you get them?
What are the fields?